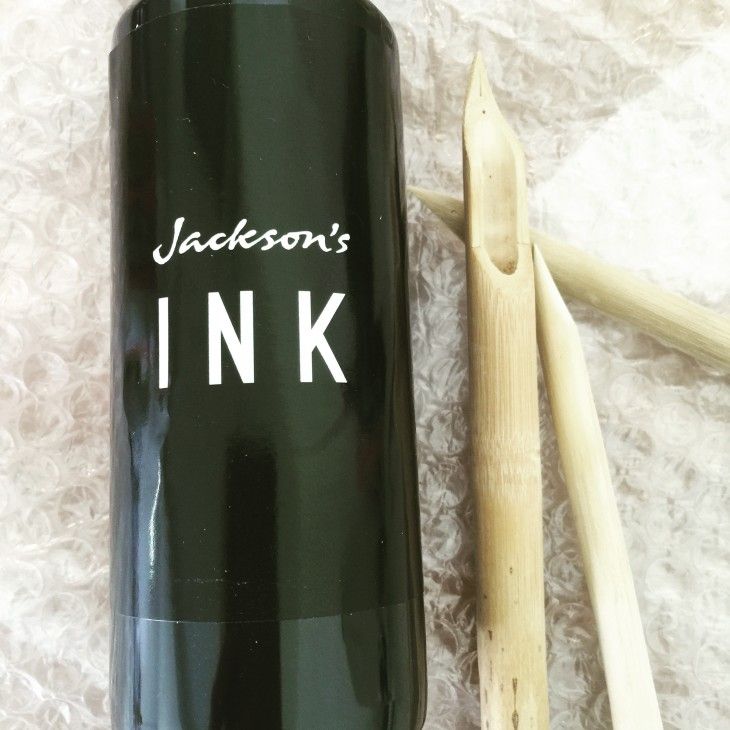 I have been really remiss and not posted anything properly on here in rather too many weeks. I have been stuck in making a lot of work though, messing about with paint, print and photography so I have plenty to hopefully write about in the next couple of weeks and show you the work I have been tackling. Some I think successfully and others much less so!  One thing that is less so and that I always shirk from is drawing. I am not the most comfortable with it. I struggle with mark making when it's just monochrome.
But having rediscovered Indian Ink with some very lovely bamboo pens I got from Jacksons Art Supplies I was suddenly up for some scribbling and drawing. The pens are so delightful to work with and I think you could have a lot of fun writing with them too.
As it is I got stuck in creating an almighty mess drawing with them in the studio with the ink, surgical spirit and yupo paper, which is basically plastic. (They call it synthetic paper). It's interesting to work on. Makes it easy to move the ink about and layer things up and wipe away but it is also something that takes a lot of getting used to, it doesn't behave like anything that calls it self paper so you need to leave all your beliefs at the door before you start playing about with this stuff.
I scribbled, swirled, smeared and then hair dried the ink, then splashed, swiped and scrubbed at the ink with surgical spirit that made the ink dissolve. It is definitely a game of experimentation and I know I've only scratched the surface with this but it was fun and I definitely know it is something I can work with and push. I threw some gesso into the mix to give a nice matt finish that added a bit of white to the pieces but also dragged some of the ink into it changing the white to grey in areas. I am going to try getting to grips with some good old fashioned paper in the next couple of weeks too and see where that goes with this technique.
Pagination
From my shop
Sorry, no posts matched your criteria.
From Instagram