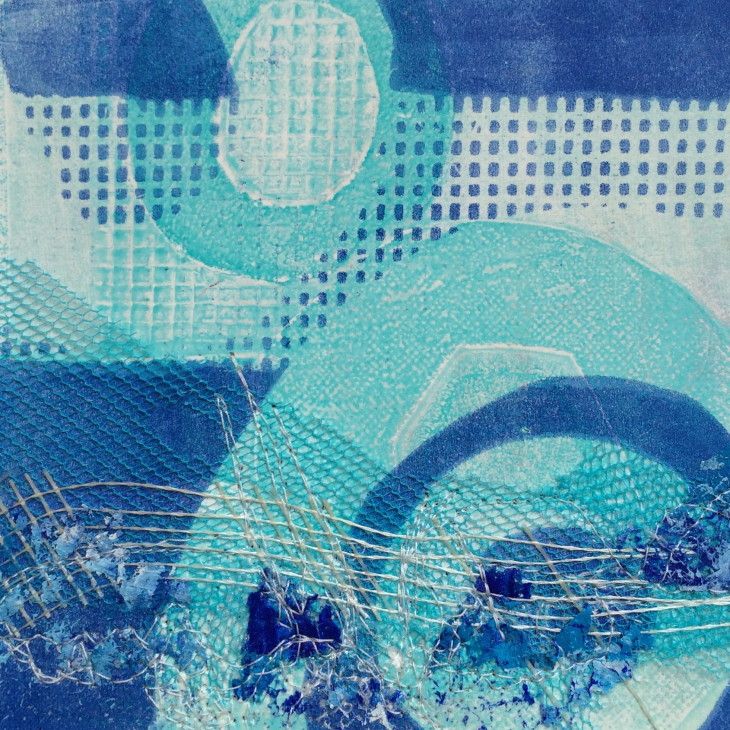 This is the beginning of a body of work where I have been blending my stitching into my printmaking. The link with my other pieces that are stand alone prints and also with my paintings is really apparent. There is a lovely free movement of conversation between them all at the moment, I am finding the ebb and flow from one thing into the next, and how instinctively I know where I want to place my marks, really exciting.
These pieces are each a mono print, made using a gelli plate that I then ink, using resists, to create different layers. This also lets the individual colours used flash through the different build up of shapes. They are printed onto card and then fixed to fabric.
The act of fixing the card to the fabric means that like magic I can stitch into the prints and they don't disintegrate into a pile of perforated fluff….its really rather thrilling! I then add interesting textures and painted bondaweb (one of my favourite things) into the images and then stitch into the whole creating more marks.
This is where my love of the flotsam and jetsam that washes up on to the beach feeds into my work. The areas of stitching, fabrics and paint is reminiscent of the debris bought in by the tide. The old ropes, fishing lines, seaweed entwined, beautiful bleached driftwood, the random pieces of brightly coloured plastic….
Pagination
From my shop
Sorry, no posts matched your criteria.
From Instagram