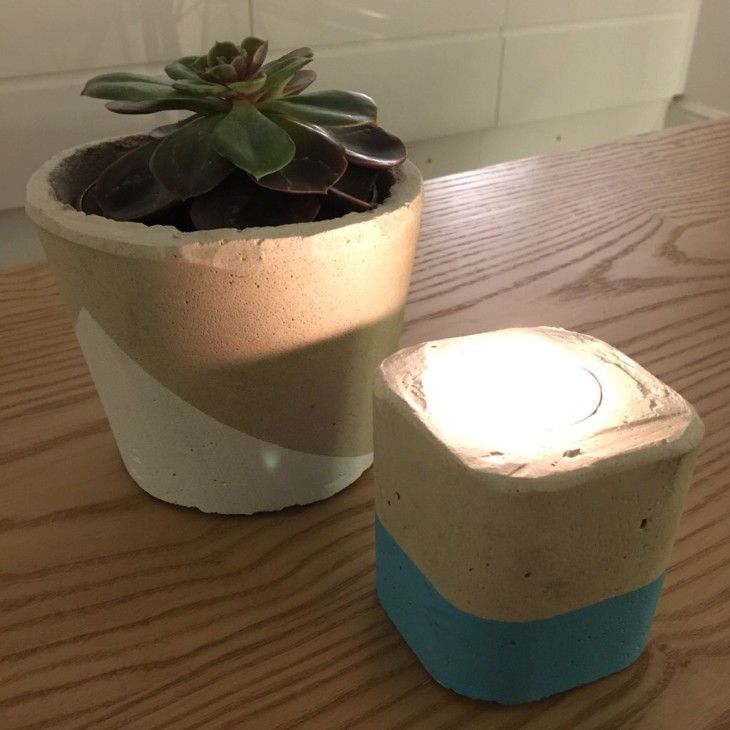 I've been inspired by seeing all the concrete planters around on Pinterest and Instagram and I have been itching to try and make my own for rather a long time now. So off I headed a to B&Q to load up with some ready mixed concrete, a length of dowling (I had seen a stool that I really fancied trying out whilst doing a google search) and a bucket. I raided the kitchen cupboard for some olive oil to coat the molds with and dismantled some plants from their pots to use to attempt a planter. Off in to the garden I went to mix and stir, saw and oil…..
The stool was the easiest to sort to be honest with a good oil on the bucket, saw the dowling into 3 exact lengths and give the concrete a good mix, shove the dowling in and then leave it to set. Give it a bash on the base of the bucket when its set and out it popped. I thought to myself, whoop, cracked it, there will be no stopping me now, planters at the ready…… Famous last words!
I stripped some poor plants out of their pretty little buckets, found some empty bottles, cans and a pot of unused varnish and away I went. Well this little collection ended up being totally jammed in place. I honestly could not shift them out of their molds even a millimeter. They were jammed fast and thus became a series of really ugly doorstops! Ooops. I think the problem with these was that they didn't have enough oil coating them and I let them dry too solid so there was just no budging them.
Five attempts later and I got this beauty out of the mold. The second lot stuck fast again even though I had smeared more oil around all the molds, the third and fourth trials broke into little pieces as I tipped them out, I think I was drying them outside and it was too cold for it to set and it didn't do what it was meant to. I nearly gave up but in my usual fashion of carrying on regardless of utter failure I tried for a fifth time…. Whoop it worked!!!! I dried it out in the airing cupboard that stays at a pretty constant temperature, I also pulled the middle mold out carefully just as it was hardening off. I have no idea if this was a good or a bad thing but as it worked it will be my preferred way of making them in future. I then tipped it out when I felt it was had enough to hold its own and then left it to dry out over night. The next day I went to buy it a present of a little spiky cacti to finish it off. I was so ridiculously pleased with my achievement. It's the small troublesome things that bring the greatest sense of satisfaction when they work isn't it.
Whilst making the concrete planter I was given some quick drying plaster to do a trial with. I didn't hold out much hope and having never handled anything like this before or ever seen it mixed before I just threw some water in, gave it a bit of a mix and plopped it in the bottom of a mold treated with oil and shoved a weight on top of it. Well it worked like a dream and I found I was hot footing it down to B&Q again to get some quick drying plaster stuff, dashing home and mixing up a proper batch, a batch that would actually fill a plant pot rather than making a weird shaped vessel that really couldn't be used for anything much.
Whilst I was at it I pinched the fresh orange bottle out of the fridge, cut it in half and then as it had a strange shaped bottom on it I cut a piece of plastic out to place in the base and hopefully have a more pleasing finished piece. This was going to become a tea light holder, well I was hoping…. mmmm and wasn't I pleased with the results! Ok the plaster had made the plastic at the base of the mold shift off centre so I then had the job of trying to saw it flat so it would sit straight and safely on a surface with a lit candle in it (quite important I felt!) but other than that, dealing with them in exactly the same way as I made the concrete pot these delightful vessels appeared when I tipped them out of their molds. I then couldn't resist adding some lovely acrylic paint and a little succulent for the planter. I love the little impurities of the bubbles and the odd crease in the surface, the marks where I used a sharp knife to finish off the edges at the top. I have been so chuffed with these pieces I have a feeling my house could be over run with them in time.
Pagination
From my shop
Sorry, no posts matched your criteria.
From Instagram