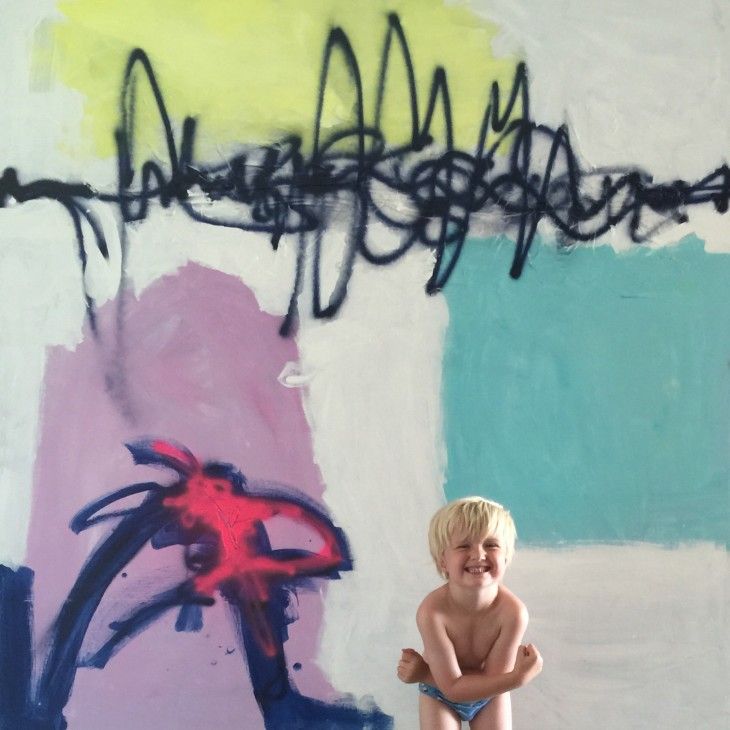 I have been moving this monster of a canvas (8ft x 8ft) around for many years. It's been hung up in the office and stuffed in numerous garages. I dragged it out to re paint about 5 years ago and got side tracked so back to the garage it went. At last it got heaved out this summer and propped up by the front door where it sat for a few weeks, getting blown over by the wind, crushing everything that stood beneath it and regularly getting rained on. The only reason I felt differently about it this time was because I had the perfect place in the house from which it could hang.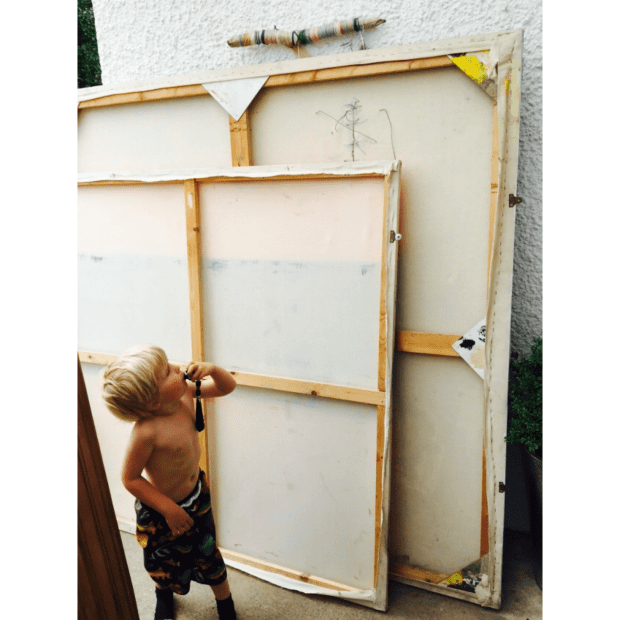 A few sunny Sundays ago I was sat having breakfast in my hidey hole by the front door pondering this huge thing and wondering when I was going to stop procrastinating and pondering it and just start it. So I thought, there is no time like the present….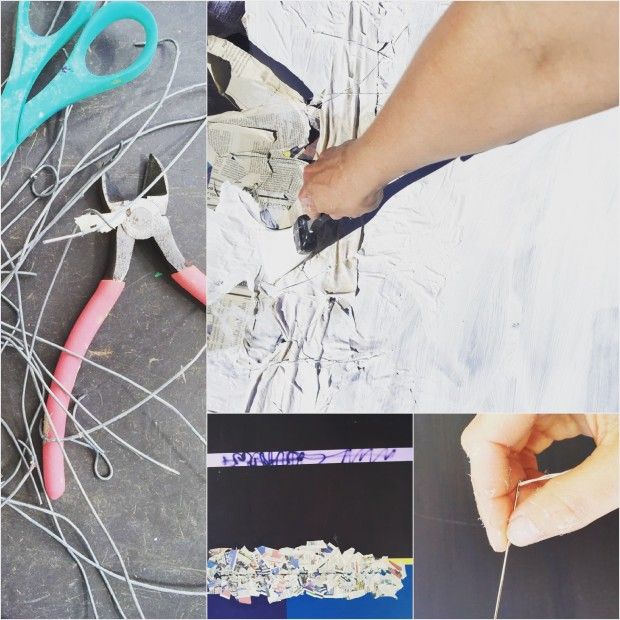 Last time I started working on it I slashed a long thin gash through the canvas side to side and stitched it together with thick wire and thinner wire that I then papier-mached round. Whilst it had been propped up through the summer holidays I had been painting the big cupboard for the hall and had tested out some tins of spray paint on it too, (rather enjoyable!), so it was in a real state of flux whilst it was sat glowering at me. I decided the gash along the top wasn't really needed, but I didn't want to loose the under painting by replacing the whole canvas. Therefore I cut out all the thick harsh wires and got some spare strips of canvas, soaked them in glue, then weaved these into the space behind the thin wires and squished it into place. This nicely covered the gaping wound and I also quickly realised I wouldn't make a very good surgeon! I then stitched this into place with the most lovely thick old silk thread that I had in the studio. I loved the gentler effect this gave to the bones of the piece. It didn't feel like it was flailing about in deep water drowning anymore.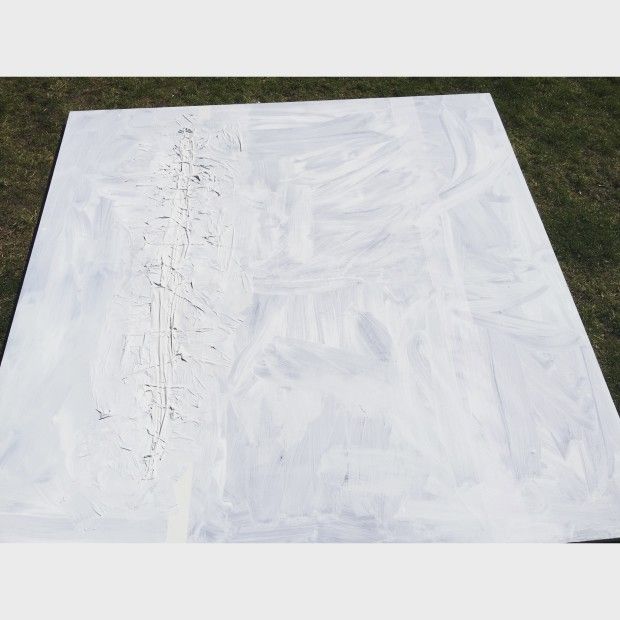 I then gave the whole thing a really good coat of white paint and then left it propped up by the front door again to dry in the sun and hopefully not sit there for the next five years waiting for something to be done with it. I'm not sure if this has ever happened to you before but I used to get it a lot with my work and then when I became lost I think my connection to the universe got muddied and too noisy for me to see or hear much from it but the next morning I woke up with the basics of this piece in my head. I had to double take with it. I know when I work on things most of the time there is an intuitive conversation going on but this was a more or less fully formed idea. I just had to create it my way and let it flow out of me.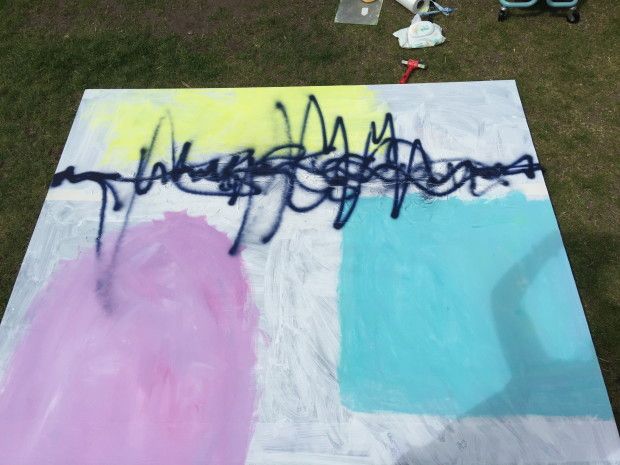 Weirdly the basic composition comes from a photo I had taken at the gym a few weeks earlier. I just couldn't stop painting once I got started. It literally shot out of my arm and down the brushes and the tins of spray paint. I think it took Mr Mini and I longer to drag all the paints and stuff out in to the garden and set him up with his own little canvas and colours than it took me to paint this but I suppose with all the guises it has been through it has taken me about fifteen years to get to this point??! (that seems like almost a life time….)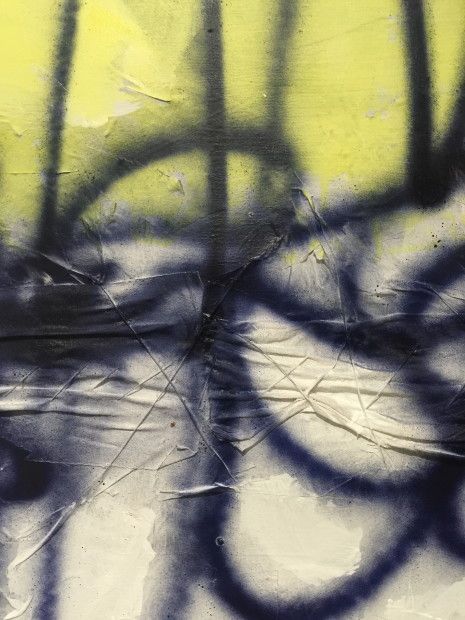 It really is such a freaky thing when it starts to happen and you literally zone off into a medatitve state and just paint and mark make. It was like all the work from the last year or so all came together at this point. A crescendo. Now I suppose it's about where the next phase goes and what path I walk down. Until then I think it's about 'Enjoy the Silence' 2015. A piece of work that as I sit in my studio writing this, I can turn to the right and see it hanging on the wall opposite me down the hall. I have to walk towards every time I go to the kitchen and each time I see it I wouldn't change a thing about it. And that my friends is a rare moment in making art indeed.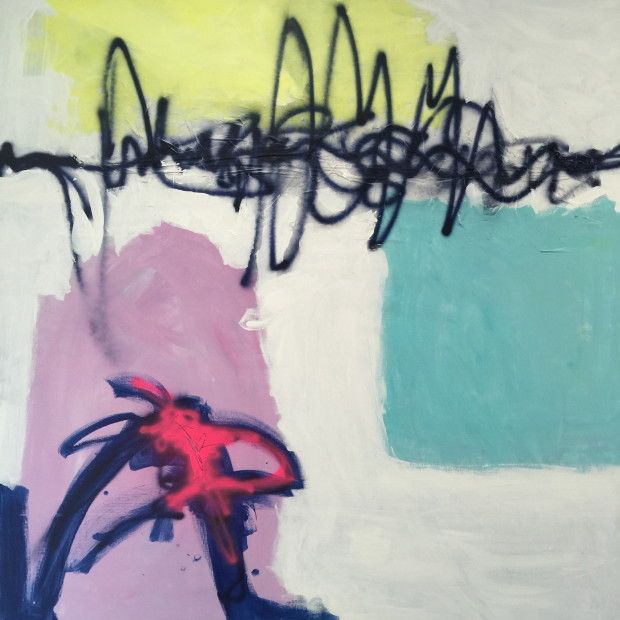 Pagination
From my shop
Sorry, no posts matched your criteria.
From Instagram