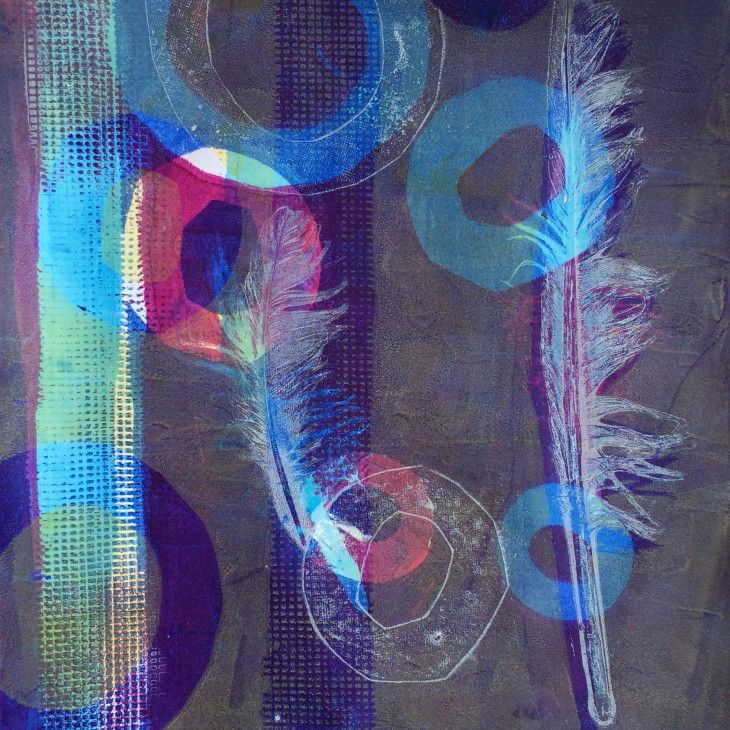 As I mentioned in a previous post, over the Summer I may not have done much physical making but I was taking endless photos and gathering supplies. I have, since the kids went back to school, been immersing myself in the studio and having fun experimenting and making plenty of new work. I bought myself a new much larger GelliArt plate. It's a fabulous 14 x 12 inches. Soooo much lovely space to move the ink around on and get to grips with new shapes and layers. Heaven in a piece of silicon!
The littlest member of the family and I have become rather obsessed with collecting feathers over the last few months, they always seem to have been laying in our path wherever we have walked so it seemed rather rude not to pick them up and bring them home.
The collection has grown so it is now spilling over into jars in the house as well as this enormous jug by the front door. So I decided to have a play around building up layers of feather prints onto some mono prints and see where they ended up, how they evolve.
The plate as you can see in the image above is rather huge, my hand isn't small either! It feels so good to be working in a larger space, pushing the shapes, having more freedom to move about and encouraging my confidence.
It definitely took some time, many mistakes and an awful lot of layers to get a feel for where I was wanting to take these prints.
I found the more I used the feathers the more they changed shape, took on a life of their own. To the point that they now feel that they are blowing in an unseen wind. Readying themselves to go to pastures new, the beginning of a chapter.
The delicacy of the shapes compared to the dense areas of the circles and the stripe, the open space between.
The shadows and the light. I have had so much fun making these. They then developed again into these three other pieces which were just about the feathers and their movement.The delicacy of the marks they left on the card. The layers of colour, the shadows and light. The stillness in the movement an of course the blues.
Pagination
From my shop
Sorry, no posts matched your criteria.
From Instagram