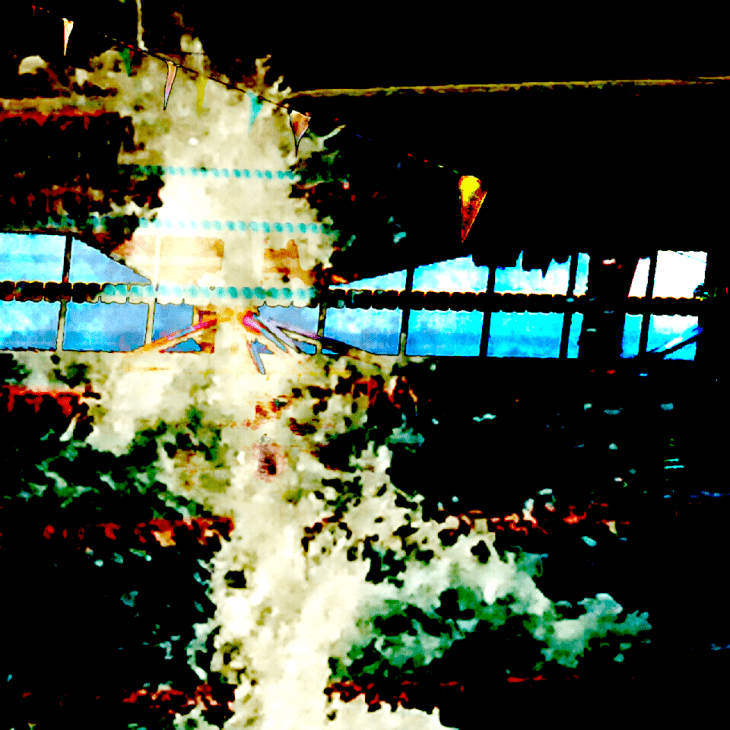 With the advent of gala season on us again. The prospect of sitting poolside for days on end, waiting for Middlers races to happen reminds me of the photographs I took at the last gala I attended in July. I can't just sit there staring into space ALL day so I use as much of the time as I can to be proactive. It's hard to get an easel out with paints and a canvas without getting comments and probably being flung out on my ear as I am not the neatest flinger of the paint and when painting my toe nails got me some strange looks I decided to opt for sketch book work or using the time to imagine on the iphone. Getting to know different apps through experiment and play. Manipulating photographs of the things that have inspired me as I sit looking around.
The huge whooshes of water as everyone dives in contrasting with all the rigid lines denoting the lanes. Bunting flapping above the turquoise of the water where in moments of stillness, reflections of the sky and clouds above can be seen. It all makes you want to fling yourself in and enjoy the butterflies racing around your stomach as the adrenaline of the race kicks in. But, instead, we parents sit on the side lines, looking in wonder at the water, yelling the kids names in support and trying to not be too dulled by the time in-between the races that count. If you are like me, then you find yourself sitting there taking photographs, mixing them all up to then make explosions of colour and movement. So here's to the new swimming season and all the creativity (and medals for Middler of course) it may bring!
Pagination
From my shop
Sorry, no posts matched your criteria.
From Instagram