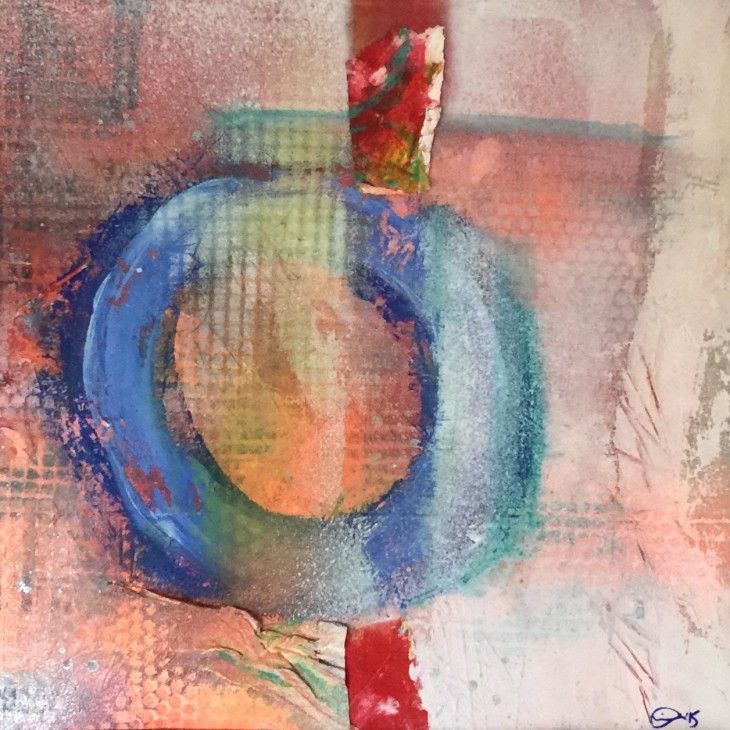 I seem to have had a flurry of problematic paintings that I have ended up, after struggling with, merrily taking scissors to and chopping up. There is something quite cathartic about it, but also, when it then comes together in a way you hadn't foreseen, thrilling. I think at the moment I would be surrounded by many pieces all glowering at me with their endless unfinishedness (is that even a word?!) if I hadn't gone down this route a few times.
I started this piece with colours that don't make me very comfortable. They aren't my usual palette. But, for the reason of pushing myself out of my comfort zone, I was determined to work through it.
I was trying to get the red, teal and orange to gel and it was refusing to work, so I scribbled white paint all over and spray painted through pieces of plastic mesh I'd found on the beach and some sequin waste (it has since become a way I'm thoroughly enjoying working as it can add something that if I was having to paint would drive me nuts being so precise). At the end of the working day, when I stood back to look at it, I discovered the word coffee had appeared through some magic osmosis and was the only thing I could see from then on in.
The next day I carried on working into it and then the scissors had to come out. The piece below is the first piece that was resolved and I am so pleased that it went through all the pushing and pulling to get to this point. I love the space and the how the colours finally decided to talk to each other. It flows well, and mainly, it works. Yay!
I was then left with a slice of canvas that was half way there but just not quite. A halo sat looking at me but it just wasn't flowing in a way that I was comfortable with. Everything was still jarring.
I ended up chopping into this piece some more and working into the Halo section with areas of collage and more paint. I think I like where it went.
These last two pieces are only small but they hold the imagination and sit well in their own space. So after wresting with the one larger painting, (that nearly ended up just being painted over in white and started again), I managed to make it work by cutting it up and working into them individually. Sometimes, what you plan isn't where things end up, but, in the process you learn, and frankly isn't that what happens in life in general? I think it's probably why I rarely plan.
Pagination
From my shop
Sorry, no posts matched your criteria.
From Instagram