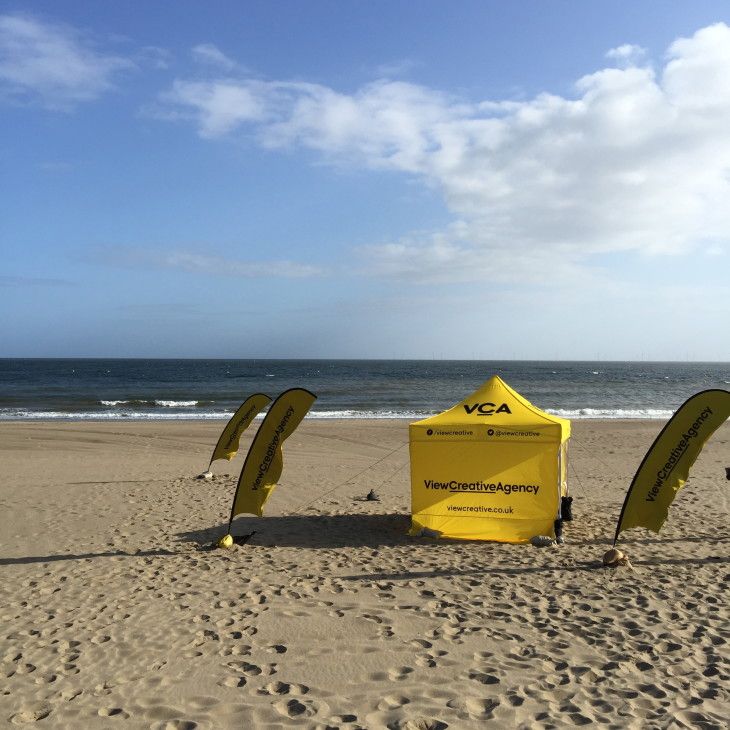 For the last couple of years there has been an event down on the brand spanking new beach right here on our doorstep called Prom Extra. It is held over a weekend and is full of creative stands, donkeys, a fun fair, stalls, a noisy, fast and fun rally car auto test and a stage with singers belting out tunes to the crowd. Last year, we, myself and the extremely talented guys from View Creative, (a fabulous and visionary design agency) worked with the amazing Dr Zigs and made bubble heaven.
This year we set up our glorious bright yellow gazebo on the sand and tried to stay standing in the howling gale. Instead of bubbles, it was decided we were going to get the kids to colour in in any way they fancied. They were each given an individual block that looked like an abstract series of colours. But, once all rolled out on the huge canvas collected together to create an amazing 10ft long image of the sea, a shell, beach, a deck chair and an ever hopeful palm tree! They all had a super time sketching, doodling and scribbling in the colour. The eventual piece turned out so brilliantly I think we are going to try and put up in one of the local large spaces, be it at the stunning new Porth Erias building or Erias Park Leisure Centre. I shall keep you posted on its whereabouts.
Pagination
From my shop
Sorry, no posts matched your criteria.
From Instagram