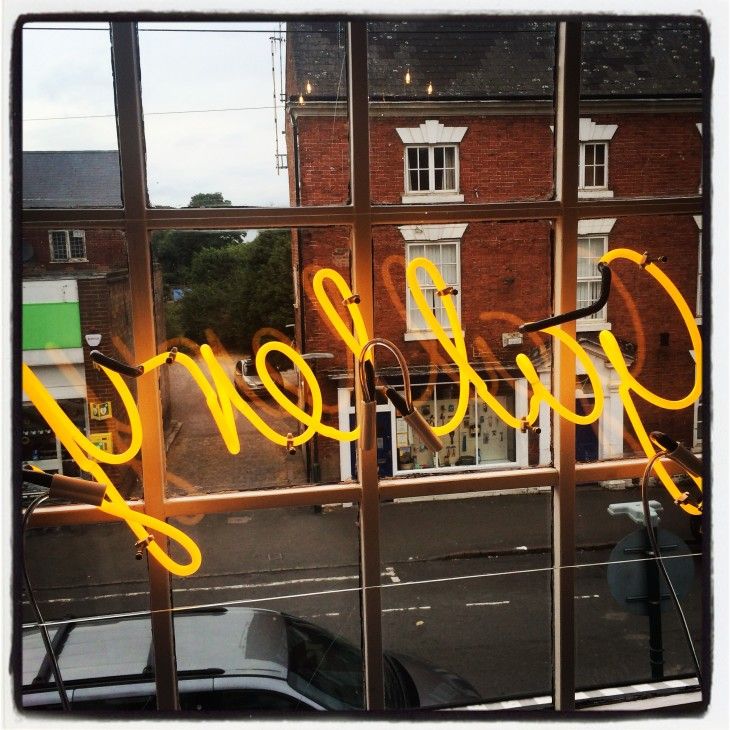 Out of the blue a few weeks ago an old friend I had met on Twitter emailed with an exciting proposal. She had had the opportunity to open a gallery space and would I be interested in putting together some work to exhibit there? I was soooooo excited for her. She is such an amazing girl and I knew she would work wonders with the space. Normally, I would have given excuses and run for the hills in fear, sabotaging any opportunity I was being given before it had even begun (I am sure there are whole psychological papers written on the whys and wherefores to the reasons of self sabotage, in fact I will no doubt write a post about it one day).
But before I could give my excuses I stopped to think and realised before I just said 'no' I had actually been making a concerted effort this year to have forward motion and positivity in my life. Welcoming change and pushing my work. What would be the point then in not jumping at this chance I was being given and doing something about it?  It may be frightening, it may be the unknown, it may be putting myself and my work out there for critisism but without fear and conquering it there is no growth, challenge and thrill when it all comes together.
Six years we have known each other but never met. It is such a curious thing social media and as I have found through the years it is a great place to generate work and is such an open community of people who genuinely want to spread the love and help wherever possible. So when the gorgeous Mel from Mel Anderson Designs emailed to say she was setting up a Gallery in her village of Castle Donnington and would I be interested in making some work to exhibit I bucked the trend of my usual self sabotaging nature and picked up the gauntlet that had been chucked down for me and decided to run with it.
Now began the slog. I have never had to work to quite a deadline before with numerous pieces of work encompassing all the different mediums that I work in. I had only ever worked on one off pieces for commissions so I was finding it tricky to keep the flow going. But I managed it and felt I had produced a decent body of work to send down. The delightful Naomi at View Creative Agency sorted out the design and printing of all my cards that I had made up from my Dandelion photograph and my Beachlife painting. Enlisting the help of the kids to pack them in little plastic sleeves with an envelope and having the hilariously frustrating battle with that static plastic tape that peels off …. Getting mounts ordered and pictures framed with the fabulous people at Bernards Picture Framers in Craig y Don, they even saved me a couple of boxes, that made me chuckle, to pack everything in. (Hubster is a Simon so it seems he's branched out into backing boards?) & my lovely friend Jo who can generally be found buried unpacking the most gorgeous pieces for her shop The Lovely Room here in Rhos on Sea saved me a mountain of bubble wrap, as when I came to pack everything, I realised that I had used my enormous roll helping mum box up and move house.
The work was safely dispatched and thankfully arrived in one piece. Such a thrill when that happens. Mel worked her magic and a few days later I was in the car. The children, hubster and animals were organised for my absence. My tunes were on, the sat nav programmed and I was making my way down to meet with some amazingly talented girls I know but had never met. I was feeling apprehnsive to say the least….
The Buzz Gallery is to be found above The Aipary on the beautiful high street in Castle Donnington. The space is so warm and welcoming like Mel herself. I had to stop myself squealing like a weirdo and putting off all the people that were milling about looking at the work when I first saw her. It was such a thrill to actually meet and be able to talk in longer bursts than 140 characters! Her beautiful felt images were festooned about the place. So tactile and with such movement flowing through them. Her wave pieces made me want to grab a surf board and paddle out to sea. Then the rest of the girls started appearing. There was the delightful Helen from HWR Designs with her amazing bags, stunning bears, lampshades and pictures to name but a few of the things she paintstakingly produces. The fabric she makes from bashing flowers into it is so incredible to look at and my description really doesn't do it justice. Its such a rough way to create such a delicate print, its mind blowing. The cake scoffing, grammar corrector (please don't look too hard at my writing mrs!) Tia from Who Ate My Crayons has designed and produced hilariously captioned mugs and notebooks. The fabulous Ali from Milly and Pip who had managed to wrestle herself free from her permanent position behind her sewing machine whizzing up ace fabric confections, a bag of which she was hauling off to the post office when she left us and lastly the delightful Rebecca Soanes who had created the most stunning photographic pieces that you felt you could just climb straight into the frame and have a wander about the fields sniffing the flowers and watching the butterflies dance.
It was an amazing opening of a brand new gallery with a fantastic opportunity to be able to exhibit there amongst my virtual and now real life friends (still such a crazy concept). There are many other artists working in all sorts of mediums exhibiting along side us. So, it is well worth a trip if you are in the area and if not, there is always The Buzz Gallery's Facebook page to contact Mel direct and see the work that's on show. Thanks girlies and thanks Mel. May this be a fruitful and exciting space for you and your ideas and all the artists work who exhibit with you to flourish in. x
Pagination
From my shop
Sorry, no posts matched your criteria.
From Instagram