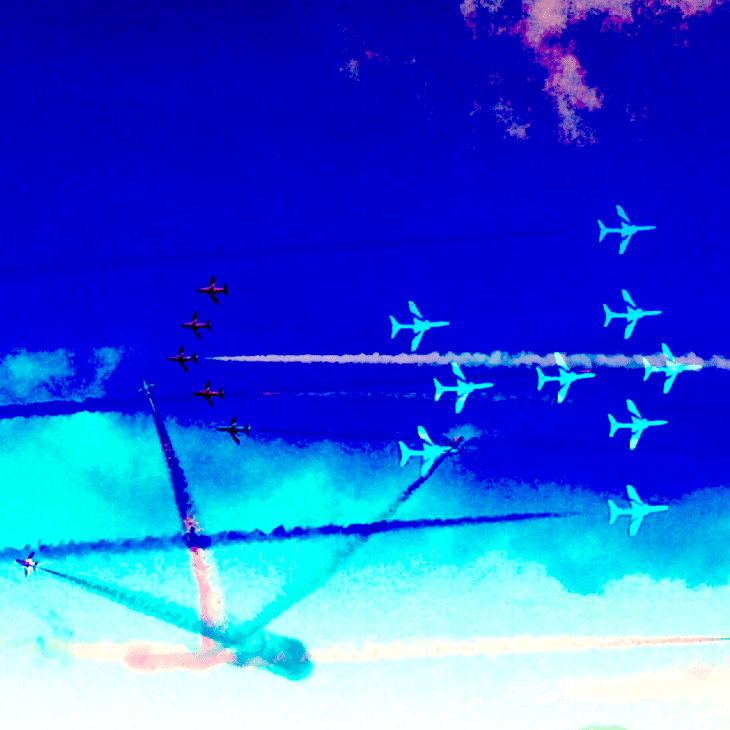 I may not have been able to get out the paints whilst sitting pool side at endless swimming galas, but, I have been able to do some extensive photo editing on the old iphone in between the timing of races.
I knew the photo ops would be fabulous when we heard the Red Arrows were making an appearence in Llandudno for the first time in many years. We had the chance to whizz out to the prom between races and watch the thrill of these incredible aerial acrobats zooming about at 800miles an hour, zipping past each other with an inch to spare, twisting and turning whilst trailing plumes of red, white and blue. We felt incredibly lucky to be able to see them again.
Of course I had to take a million photos on the iphone. Well it would have been rude not to surely?!
I then returned to the pool where middler got back to the task at hand of beating his personal bests buoyed up on the visions he had just seen flashing through the sky above him. I then opened up the instablender ap and had some fabulous fun layering up pictures of these incredible formations and smoke trails.
Pagination
From my shop
Sorry, no posts matched your criteria.
From Instagram