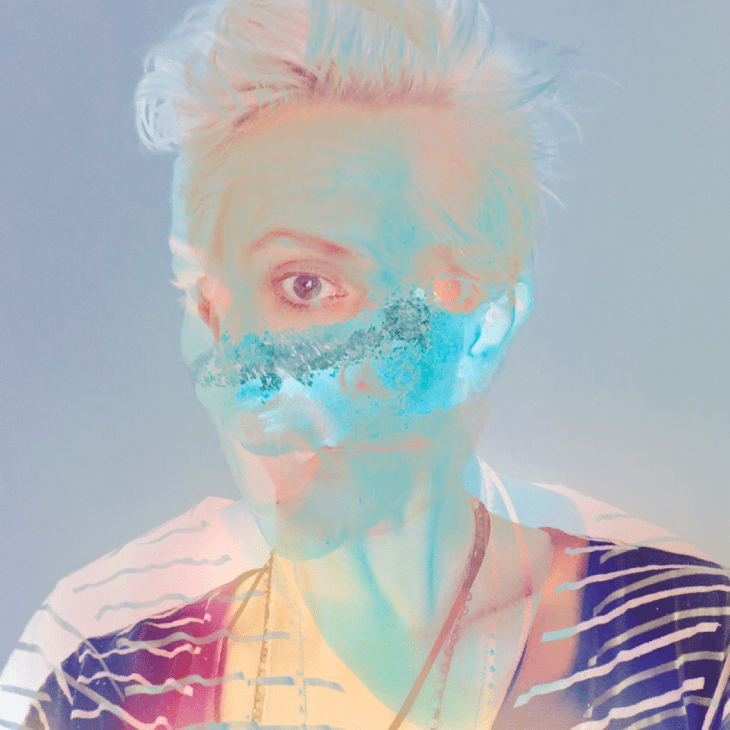 Self portraits are something I have always struggled with. It feels so weird to stare at my face for hours in a mirror whilst I try to paint it, badly. It leaves me feeling really awkward for the duration. It is hard enough to feel uncomfortable working through a painting that is sticking, or has become a bigger thing in my mind than it needs to be, without shoving my face in to the fray to send me completely over the edge!
I think that is where photography and the dear old iphone comes in handy. It's just a quick snap shot. I can arrange my features so I don't look too much like a complete pillock. I have control of the image that I choose and then I can shove it through all sorts of aps with filters and loads of ways of changing the photos without them becoming the snip and tuck, stretch and de-crease of photoshop. I think it's a slippery slope making yourself look so fabulous that you keel over in shock when you stand in front of the mirror sticking the slap on in the morning and realizing that you actually look nothing like your doctored pic. You never have and never will. It sets you up for constant disappointment. Why put yourself through that?!
This series started as a selfie tag from instagram for #20beautifulwomenchallenge. You got nominated by amazing women to take a pic and then tag 20 other fabulous women on your own feed and so it proceeded to grow. It's interesting to see how people photographed themselves and I think, since I stopped looking at 'selfies' as taking a self conscious image of myself, but a way of taking a traditional self portrait and moving it into a medium that I am more at ease with. As I find the painting process of this so excruciating, I am able to get under the surface more and push what I am thinking and what I am wanting to create. To end up with something that has the right note.
Yes, I did slap white acrylic paint all over my face and as I was scrubbing it off afterwards, I pondered it's toxicity…. it was a bit late by this point to worry (like thinking makes it any less so but you know what I mean!) I took a series of these pictures until they stopped looking all stuffy and hugely self conscious and started to look how I feel they should have looked. To be about me.
The theory in my head was that I had just spent the best part of 5 weeks painting walls and endless wood in the house with white paint and I was literally seeing white oozing paint in my sleep, but, when I look back at these pictures a crazied Adam Ant fan springs to mind….ooops.
Pagination
From my shop
Sorry, no posts matched your criteria.
From Instagram