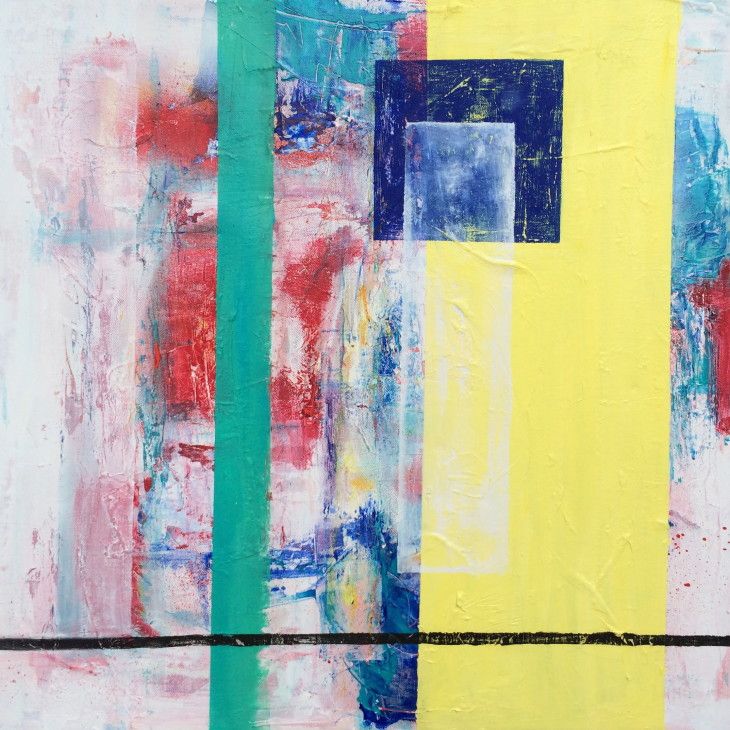 I had had a canvas glaring at me from the easel in the corner of the studio for a few weeks. To say I hated it would be putting it mildly. I had been throwing about a bit of paint, not liked were it was going, thrown some white over it and puddled about over the top, but it was generally having issues. Thus so was I. I had kept myself busy doing plenty of other things. Printmaking, exhibiton prepping and openings, general life stuff in between but this pic had been poking away at my back continuously over the top of it all. I had refused to turn it to the wall as I needed the constant prod to eventually pull my socks up and attack it properly and move it on the the next stage.
One evening last week I had the sudden urge to pick up one of the oil bars that I have knocking about in the studio and I just scrubbed it over a large area of the canvas, thus breaking the damn spell it had over me. The section above was from a small area. I think this space and mark making is something I will definitely return to in the future on another piece of work but for this one it was the starting point to something else. The next day I remembered a little tin of something that had been pootling around in my studio, moving from surface to surface for months and I just kept looking at it and wondering what I would ever do with it.
Turns out this little tiny tin of Liquitex acrylic spray paint was the perfect little detour I needed. The people at Granthams Art Discount obviously knew before I did when they sent me this tiny aerosol of joy as a surprise free sample, that one day it would answer my hair pulling hollers. It really is no wonder that people become addicted to covering walls all over the place in graffiti. It is soooooooo satisfying to use. Instant paint in either a blocked out dense colour or with a wafty diffused overlay. The colour was not one that I usually use, red. Hence why I had been moving it round for months, if it had been blue I reckon I would have been messing about with it yonks ago.
So having sprayed generously over the top of the canvas I started adding paint with layers of wax and that delicious thick gloopy medium I had been using in my last painting.
I was loving it at this point and was feeling really excited that I had broken the seal over not being able to work on it. Looking back today, I know I was right to have pushed it from this point, painted over it and taken it further, but, at the time I was feeling it could have been just about finished. I think on the whole it was just too busy for me. There were really interesting areas that I loved, but, as a whole it was all over the place and was giving me a headache. There was no flow and it was all talking at the same time. This is one of the areas that I loved. I think I am going to use this area and a couple of the others to push some other work that I have puttering about in my head. I think blown up these will be really interesting. Its just all together they jarred too much.
So after blasting it with white paint I was quickly feeling very lost again. I had all but obliterated what was there before with no way of getting it back. The image was still all over the place and the flow had basically ground to a halt at a very annoying dead end.
I had painted scraped, sanded, coloured in, re painted and I was just finding it was folding in on itself rather than actually opening out and letting you discover areas. The gates were closed and the walls were built very high. I was on the outside trying to peek at where the hell I was meant to be taking it and it was all just quite simply, urgh. More spray paint, more of everything, different shapes, still getting no where. It was all too samey. I needed large areas of colour but I was unsure of how to get it. I think by this point I was so unprecious about anything that was left I just wanted to make it work and not just lurk in the corner forever.
It was then that I left it for 24 hours. I was worried that I would be back at square one if I left it, that I just wouldn't be able to return to it for weeks on end again. So I knew the next day, that whatever I was thinking, I would have to get going with it again. It had consumed me for days, standing in the studio, taking pics, re painting areas, turning it round and round to get another perspective, re painting, sanding, scratching….. I knew it needed large blocked out areas for a bit of peace and focus, it needed a change in surface. As with all things creative when they have been buzzing round your head for long enough or even when they haven't, the idea pings into your mind in the middle of the night, waking you and making you feel all aggitated. I thought through what I wanted to do and then the next day out came the masking tape, tape measure and the palatte to mix the paints. I felt re engaged. At last. Phew!
I started building up areas of colour, some dense others washes. Sanding down some of the blocks and stripes as they where all a bit too flat. Using my trusty wet wipes to wash down areas and create films of white and the ragged edge on the teal. It gives somewhere for the eye to sit. Somewhere to rest before moving in closer to to watch all the chaos going on in the bakground. The turmoil swooshing about behind the stripes standing firm over the top.
I think it is finished. I don't feel that I need to push the imagery further. I am stilled to let the painting now be and let you the viewer bring your own ideas to the piece. To see how it makes you feel and to let it speak for itself. I am setting it free.
Pagination
From my shop
Sorry, no posts matched your criteria.
From Instagram